Don't see badges for all the years you've participated? Well, we've finally caught up for demand and assigned them. All you need to do is go to your Dashboard and make them visible by following these instructions: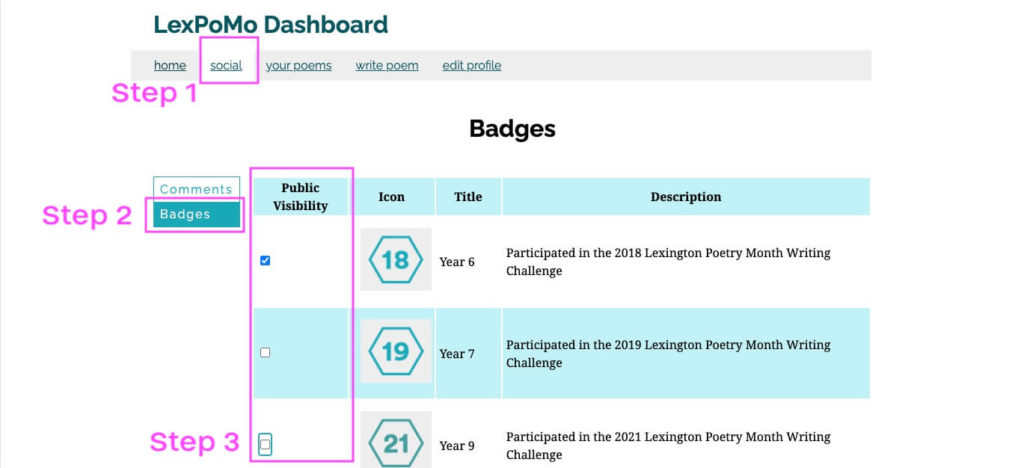 In the past, all badges had to be assigned manually. I finally created a system that makes sure that all past Participants (i.e. people who registered and published at least 1 poem on the site) were given a badge. And in the future, all Participants will get a badge assigned as soon as they publish their first poem!
Supporters, unfortunately, still have to be assigned manually. And Chris wants me to let everyone know that, if you've supported Workhorse and LexPoMo.com but don't see a badge, he'll be adding those throughout the month. So you haven't been forgotten.
But That's Not All…
I've also included a slew of new features, including the following:
Poet Registration Pages
Clicking on a poet's name now takes you to a single page that only shows that poet, their bio, avatar, poems, and badges. In the past, this solely took you to the list of participants where you'd have to search for them manually.
Click on Christopher McCurry's name to see an example of it working.
This won't just work on Posts and Poems, either, but will also work on comments, too! (Special thanks to "manny jg" for suggesting this one.)
Not only are we finally automating the Badge process, we've also created page templates to display the badges with an explanation of what they represent.
And if people have enabled Public Visibility, you can see a list of poets who have received those Badges, too!
Sitemap in Footer
A huge theme with this update was making it easier for users to find information that was previously hiding or completely inaccessible.
Now you can see any inconceivable page – including archive lists of different Poems, Poets, Badges, and Anthologies – in the footer of every page.
Breadcrumbs
Along with the Footer Sitemap, we've also added "Breadcrumbs" to every page, which are links that illustrate a piece of content's hierarchy within the rest of the site.
So if you go to someone's most recent poem, you'll now see something like the following:
Home » Poems » #LexPoMo 2021
Home » About » Frequently Asked Questions
Home » Badge » Participant » Year 1
And so on.
---
There are other "under the hood" changes, too. But those are the big updates.
And if you have any suggestions or questions regarding
---